Experience the classic Oktoberfest food and beer from home!
While supplies last! Pre-order by September 2nd.
Pickup availability will be September 3 – 5 between 4 – 6pm.
Order online or call us directly at 216.671.6220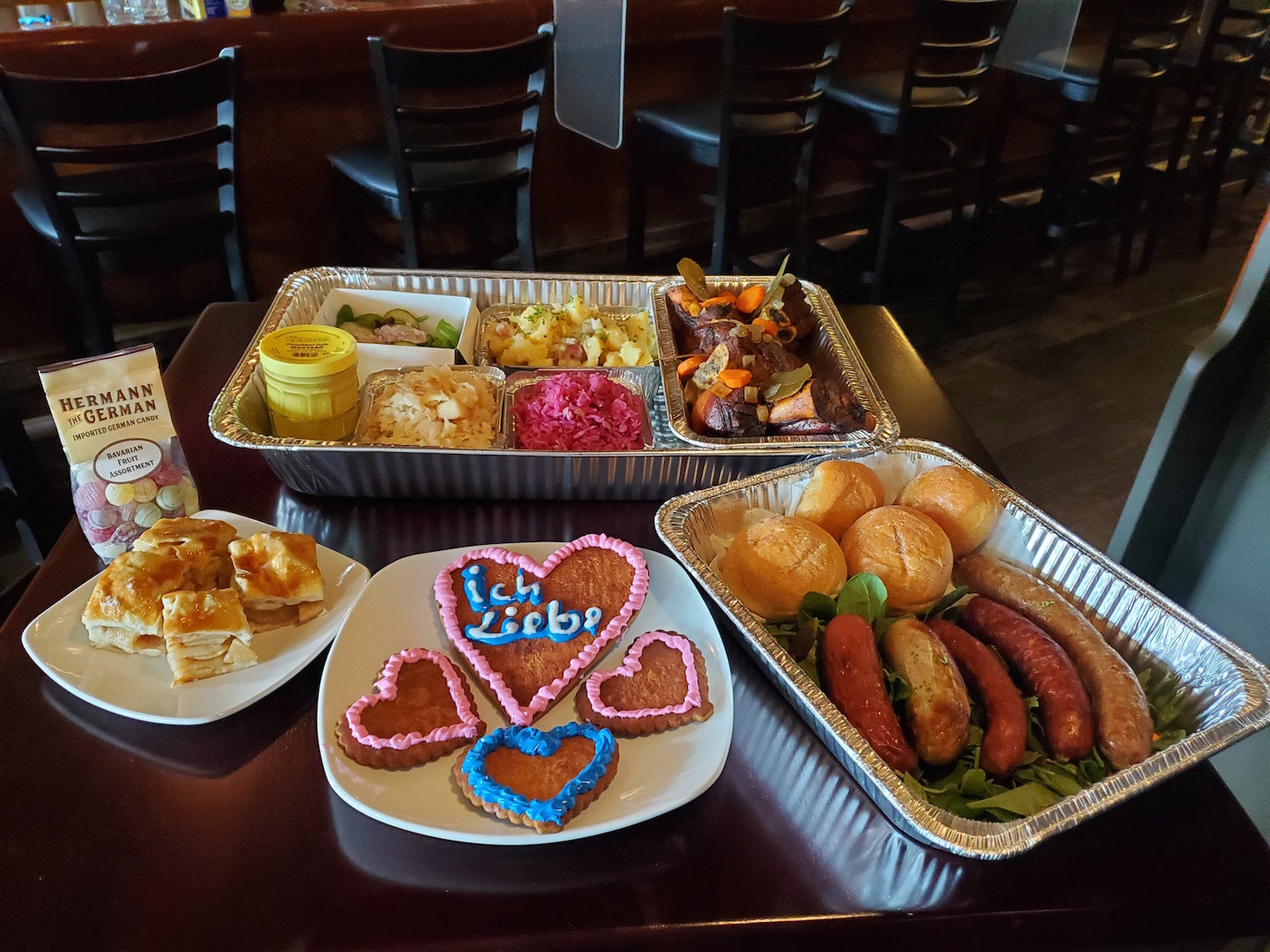 Traditional Oktoberfest Dinner (feeds 4 – 6 people): $75 (plus tax)
Choose one Protein:
4 Schnitzels (pork or veal) 

4 Schweinshaxe (roasted ham hock)

1 Whole Roasted Chicken (split)
All meals come with:
Alstertor Dusseldorf Style Mustard Glass Beer Mug 

4 Classic Sausages (one of each): German Frank, Beer Bratwurst, Kielbasa, Knackwurst, Weisswurst 

1lb of Apple-Bacon Sauerkraut 

1lb of Red Cabbage 

2lbs of German Potato Salad 

1 Small Pickled Cucumber Salad

4 Rye Bread Rolls 

4 Bienenstich (Beesting Cake)

1  Lebkuchenherzen (gingerbread cookie)

1 bag of Herman the German hard candies
---

Otkoberfest Beer Package: $55 (plus tax)
Two 64-ounce growlers with your choice of Oktoberfest draft beer (see below)

2 half liter glass mugs 

2 Paulaner keychains,  bottle opener  and

 coasters 
Add a variety 6-pack for an extra $15.99 (includes an additional glass half liter mug and Oktoberfest beads).
Available Draft Beers for Growlers:
Weihenstephaner – Festbier
Paulaner Oktoberfest Märzen
Paulaner Festbier Weisen
Ayinger Oktober Fest-Märzen
Thirsty Dog Barktoberfest
Warsteiner Premium Oktoberfest
Hofbräu Oktoberfest
Ziegler MadTree Oktoberfest
Available Bottle & Can Beers for Variety Pack
Bitburger Oktoberfest
Erdinger Wheat Oktoberfest
Left Hand Brewing, Longmont Oktoberfest
Spaten Oktoberfest
Shiner Oktoberfest
Lagerheads Oktoberfest