Join us for a Riesling Wine Tasting and Garden Party

on June 17th
with Riesling wine, food, and music to celebrate summer.
Saturday, June 17th, beginning at 1pm
Our patio (weather permitting) and dining room will be made private for this Saturday afternoon event and set to celebrate the summer! Heavy grazing with seasonal bites while we talk, learn, and taste Rieslings from dry to sweet.
This dynamic tasting will explore Reisling wines from The Loosen family, which has produced wine within the Mosel Valley for over 200 years.
The Line Up:
Dr. Loosen Riesling Sparkling:
Dr. L Sparkling Riesling is 100% pure. This crisp, fruity grape has made German wine famous for centuries.
DrL Dry:
A harmonious, beautifully balanced Riesling made in a dry style that is extraordinarily versatile with food.
Dr. Loosen Red Slate:
A wine demonstrating a well-balanced dry Riesling from estate vineyards that show the distinctively firm minerality of red slate soils.
Dr. Loosen Gray Slate:
This sibling of the classic Dr. L Riesling captures the brilliant, mineral character of the Mosel in a versatile off-dry style.
Dr. Loosen Blue Slate:
A brisk, juicy, low-alcohol Kabinett-style Riesling from ancient Devonian slate soils in the Mosel Valley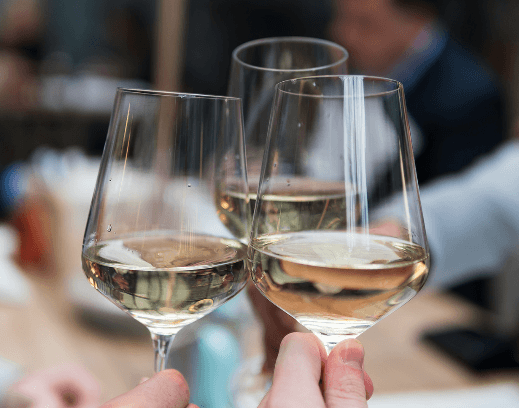 The quintessential riesling grape is synonymous with Germany. Taste the wine of the Dr. Loosen estate. For over 200 years, this family has cultivated some of the best-rated vineyards within the Mosel Valley. Join us for a casual afternoon that offers food, wine, talking, learning, and music in our private castle room and private patio for a garden party atmosphere. The lively grapes will sip dry to sweet as guests tour the versatile flavors of Riesling wines of Germany.